3/2/2011 ~ Bagpeople

In 1988 I moved from Hicksville to Columbia, Maryland, but one thing I missed was the columns by EdLowe in Newsday. There was nothing here to replace them. But I returned each summer to our cottage on the Sound in Southold, and kept in touch with friends my wife Linda and I knew. My friend Mike Endsley told me in 2002 about the bag, and I have returned to it each summer to celebrate the end of the school year (I teach high school) and the beginning of the summer. It will be especially poignant this summer, to be at the News-Paper Bag, and remember EdLowe, and contemplate, with music and friends, the today we have, and the tomorrow that is coming.

Doug Hanewinckel
12/16/2010 ~ Another pair of satisfied customers

Good Evening Fine Sirs, ( an assumption I assure you )
Your last performance was truly amazing. Not only did you guys kick ass, I was reconnected with a wonderful woman I haven't seen in 20 years. Since that magical night in June she's become the apple of my eye. I owe much of my current joy to your annual shin-dig. So before I get all misty eyed I had a point???? Oh yeah, do you have any of the 2010 band shirts available for sale? It would make a terrific keepsake..........just like her!
Thanks for your consideration. See you next year.
Ken Maguire
Editor's note: Ken joins a long line of highly intelligent folks who met at the Bag and become couples, lovers and yes … married. For the rest of you, you can aquire Leftover Bag Shirts by clicking here
3/1/2010 ~ Brown Bag Idea People

Hey, Mike!
My husband, Gary and I were just explaining to our kids (11 and 8) about The Paper Bag. We happen to say out loud, at the same time "Paper bag - what a drag!" and started laughing. The kids thought we were crazy - and then we began humming the ever popular theme tune that goes along with it. Wow! It's been a long time! We live in NC now (LOVE it!), and our kids are being raised as Southerners. It was hard to put into words what it meant to us. Our oldest (Tucker) was conceived after a Paper Bag concert! (thanks - he's a great kid!) Anyway - we are Gary and Lisa Penny - who get credit for the Brown Paper Bag from 1998. We've still never met you - but just wanted you to know that the Bag will always be dear to us - no matter how far away we are.
What are the chances that tee shirts from that year could be made still? We'd love to tell the story down here. Hope to see you on June 29th. Glad the Bag goes on - even though we're all OLD BAGs now. RECYCLED BAGS? BAGS of SHIT? BAGS under my eyes? (do you see me trying to come up with a new theme idea?)
Let us know about the tee shirts if you can! Thanks.
Lisa B. K. Penny
Editor's note: Yes, it is true that the theme Brown Bag that graced Paper Bag #21 back in 1998 was first suggested to us in an email from none other that Gary and Lisa Penny. Through the magic of the internet - here they are! And YES! you can aquire shirts from Bag #21 - The Brown Bag - by clicking here
2/15/2010 ~ Mrs. Mary Jay

Good day ,
My name is Mrs. Mary Jay I am with the Presbyterian Church and i will like to order Paper Bags, below is the specification of my inquiry:

1. Twisted paper handle paper carrier bags : 10 boxes (1500 bags) 240 + 110 x 310mm @ £130.50 per 1000
2. 15 boxes 180x80x220 Plain twist handle Paper
3. 15 box of the Size - 15cm(w) x 8cm(g) x 20cm(h) White Kraft with twisted paper handles
kindly email me with a total the picked up price for this sizes and if you have this type, kindly email me with the type you have available. I will like to know the terms or forms of payment you accept Kindly respond to me as soon as possible for us to proceed further.

Thank You.
Mrs. Mary Jay.
ph: 07031849639

Editor's note: Yes, this is an actual email to the Paper Bag website, apparently from England. You can't make this stuff up.
8/25/2009 ~ Sonny Calzone

Dear Paper Bag...
Three years ago, I began to hear all sorts of wonderful things about the Paper Bag phenomenon on Long Island. My heart fills with pride whenever I think about it. Knowing that I live on an island where Paper Bag happens, well, it's a very special thing. Today marks the first time that I visited your Paper Bag website, and I was very impressed by the wealth of amazing information to be found there. Best wishes to you all for continued success, and many many more years of Paper Bag greatness!
Seven years ago, before I even knew what Paper Bag was, I started a band with a few musicians pals, and we became The Suck It Easy Band. I feel like we are kindred spirits; Paper Bag and The Suck It Easy Band. I have shared the stage with more than 300 musicians in The Suck It Easy Band, many of whom still continue to perform with us today. We do our part to help keep While we do not stage 70 players at any one time, we do sometimes reach the 10 player mark, and last year we had 4 guitarists all sharing the Easystage (as it came to be known) at the same time. We called that our "guitarsenal".
We kept at it, and I'm happy to say that we'll be appearing on the Tilles Center main stage for the first time (with a 14-piece band, to recreate some of Pink Floyd's timeless classics). We've come a long way in our seven years existence. And I hope to one day experience the majesty of Paper Bag in all its glory! Keep up the excellent work! I love what you are doing!
All the best,
~Timothy Connolly (a.k.a. Tim Easy a.k.a. Sonny Calzone)
Godfather of the Long Island music scene Cartographer of the Suck It Easy nebula
Mayor of Easytown USA
...and whatever else they're calling me these days
www.thesuckiteasyband.com
8/20/2009 ~ Joe Testagrossa

Hey It's great to see that you guys are still rockin after all these years!!!! I remember the first time I met you all back in the eighties when I was tending bar at "The Brokerage Pub" in Bellmore.And also being part of the "PaperBag" crew for several years. I have always thought you guys are an awesome band. I wish I couldget back up north to catch a show. I'm sure like a fine wine your music gets sweeter with age.

With fond memories, Joe Testagrossa (Uncle Joe)
Editor's note: Uncle Joe was indeed a member of the Bag staff during Bags 7 - 10. After 20 years here he is on the Tell Your Story Page.

7/24/2009 ~ BillFoolery -
A Paper Bag virgin no more
For the last 32 years there has been an annual event called The Paper Bag. It is billed as the longest running 70 piece rock band. It has taken place at various locations over the years and now it tales place at Mulcahy's in Wantagh.
I would have written this piece before the event to advertise it but I have never been to a Paper Bag event. I had no idea what it was and now that I attended I can also say that the event needs no advertising. It was jam packed and it was a piece of Long Island music culture that I can tell you is a must-see. It was also fun. It is a novelty event. It is a showcase of unique rock music arrangement. It is a rock opera with dramatic performances. It is rock humor with vaudvillian elements. It's Long Island guitar-mania. It is well run and it's got a life of its own.
The event went from 10 pm sharp to the wee hours. I left around midnight and the set list was still young. Just for the record before the opening act was a performance of Hendrix's Star Spangled Banner and the show ended with another Hendrix tune (Let Me Stand Next to Your Fire). In between were 40 or so rock standards from Whipping Post to Rock Steady to White Rabbit and every song was orchestral and dramatic. The stage was full with horns, guitars, costumes, singers, drums, keys, synth.'s and dancers of many ages. I stood marveling at the people and the performances.
I thought I knew a lot of performers on Long Island but there were 70 players on that stage and I knew only a handful. Johnny Cola (one of the dozen or so guitars) invited me. Thanks Johnny, but I knew few others. Mike Guido, a host was a cool MC and vocalist. There were good vocal performances by Lee Thompson and Tony Barca and Joan Pollack and Dawnette D (Darden). You can see the roster and lots of other information at www.paperbagmusic.com.
Next year I will be able to write something before the event now that I am initiated and I will be sure to remind you. If you have not seen a Paper Bag I think you need to. You'll understand the local music culture better and what kind of music the Long Island audience likes and why. It felt like all the crowds I have been part of for the last, oh, 30 years and it probably was.
So I now feel fully initiated into the club of the Long Island music audience. Thanks for checking in ya'll.
Editor's note: check out Billfoolery's blog at www.BillFoolery.com
7/15/2009 ~ Joanie Pollack -
You must read this!
Here's an original story for you. Before the show started I met a relative of a band member who seemed ok. About six hours later I'm standing at the bar watching Denise and Paul sing "Only You Know & I Know" and having a great time. I saw this woman getting up from a bar stool. Jokingly I sat on it pretending to take it away from her. She leaned over to me and I thought she was going to say something funny. Instead she bit my face, my right cheek to be exact. I pulled back and put my hand to my face. She actually looked surprised and said "oh, did that hurt?" My response? "You bit my face, what the fu** do you think?" She went to a bartender to get a cup of ice and she brought it to me. Then she walked away and I didn't see her for the rest of the night. I was pissed off until I got on stage to sing backup for the next song. It is impossible to stay in a bad mood with Denise next to me. Man, I Got Bit at the Bag!
Love, Joanie
Editor's note: You just can't make this stuff up. Has anyone else been bit or otherwise assaulted? let me know
7/9/2009 ~ Denise Corazón

hey mikey,
i was in bagphoria for a week. i have just come down off my cloud and realized that you are the true Peter Pan. hope you liked my smurf wig, hehe... love you... love the bag!!!
denise
7/8/2009 ~ Mark Coffey - the Bagshirt man

Mike I just completely read your e-mail. The last paragraph was not necessary. It's my small contribution to one of the most insanely, and outrageously fun events on the planet; of which I am only happy to be a part of. It must have been a better Bag than I thought, because I was feeling like crap, and I still stayed half way through the Wheel! Thank you. And thank you for your kind words.
See you soon.
7/7/2009 ~ Joe Scollo

Hey Mike,
My most important suggestion for next years' bag. No guitar amps over 30 watts. Seriously!
I Luv Ya! JoScolo
7/6/2009 ~ Paul Rafferty

Great show on Tuesday (and, Wednesday)! It was my 5th bag. As a former LI'er living in Maryland, I make a point each June to plan a visit to catch the bag. And yes, I do take the next day off (or at least, lying on the beach).
Looking forward to next year. Great job.
7/4/2009 ~ Ralphie D

Hey there Mike. What a great time I had. Thanks. Hey Mike I was looking at Bag 3&4 and I didn't see any 6 Ft Unicyle pics. Did I break my arm before anyone could snap any ??
Sent from Ralph's iphone
Thank you & God Bless
Editor's note: During Paper Bag #2 at the Silver Dollar Saloon, during Joe Scollo's Human Disco beat, Ralph fell off his 6 foot unicycle and broke his arm.
7/4/2009 ~ Larry Lupo

Dear Sue and Mike, Thank you for a great time. obviously the music was excellant but as always it was great to reconnect with people you have not seen. I noticed a new generation of Guido's in the audience ( fake ids? ) and my son and friends closed the place down.
Love, Larry
7/3/2009 ~ Espo

Well, this was my 6th bag as a vocalist, but my first as an expectant father (shirt: DADDY TO BE 8/8/09) The Mommy-To-Be stayed until my Country Joe bit was finished. I thank Guido for considering me to do that one, as well as the amazing duet with the versatile and talented Denise Corazon, my previous and hopefully future duet partner (MEATLOAF-Paradise in 2010?!)

Each year, the bag gets better, the family gets stronger and the camraderie is more evident. I live for the Bag and I am saddened the second it ends. As I drive home at 430 AM, I am already thinking of the next bag---Some ideas I have already send Guido are: T-Bag, Travel Bag, Overnight Bag, Brand-New Bag...) But, alas, I digress.

In Paperbagdom, I am now somewhat of a celebrity...or at least familiar: The guy who sang: Hot for Teacher, Badlands, Miami 2017, 5:15, Enter Sandman and now Country Joe (my first real costume) I have promised Guido that if he includes a KISS song (Detroit Rock City preferably) I will don full KISS makeup and costume--and any of the musicians is welcome to join me. The Bag Crew is also always at the ready to aid another bagger. For example, Dave The Rave may sweat it out with you and help you build your shed (BUT NEVER AGAIN) or Jim Small might help you get Sam Ash to make a donation to your fundraiser at school. Or Tony Barca and Mike Nugent might play at your School of Rock concert.Or Lee Thompson and Jimmy Meyers letting you sing 'Fairies Wear Boots' and 'Roadhouse Blues' with Sidewinder... Or, Denise Corazon might help get that same School of Rock club off the ground....It's a wonder that the Paper Bag didn't have a slot at LIVE AID or LIVE 8? Not sure what else can be said, other than the pride I feel being a part of this, more than the pride I feel for almost anything else other than being a teacher or, soon to be a father....BOW DOWN TO THE BAG!

PAUL ESPOSITO
7/4/2009 ~ Joanie Pollack

I've said it before and I'll say it again...I'm a Paper Bag fan first, singer second. I haven't performed since P.B. 2004 so I was extremely nervous getting on stage this year. When I heard the guitar section playing on "Carry On Wayward Son" it blew my mind away! They were so awesome!!!! My stage freight turned into pure adrenaline. I would love to say which songs I enjoyed and why but that would fill up a whole page. Everyone was amazing and it was an honor to be on stage with such incredible talent. Thank you again for letting me be part of the music and madness.

Sincerely, Joanie
7/4/2009 ~ Tim

another awesome bag in the books! rocking into the wee hours. i'm hoping i could buy a couple of bag #32 shirts to keep me going until #33. please send me info.
peace, tim
Editor's note: I do have some leftover shirts from Bag #32 and they will be available to you soon. Check the Bagshirt page for up to the minute info
7/4/2009 ~ Jim Irwin

Mike, words can not describe how awesome you and the band and all the members efforts are in putting together the most entertaining night to kick start the summer. My hats off to all.
THANK YOU!
Jimmy OILCAN Irwin
7/3/2009 ~ Tom DeRenzo - Bag Rookie

want to thank you for having me share in the Paper Bag experience. Sharing, laughing, and playing music with friends I've known for so many years, makes even those relationships more special. I was great fun, with some great musical moments. Although it was my first Bag, I was made to feel very much a part of the family. Above all, I was especially impressed with your patience and organizational prowess!

Well done, Mike!
See you next year!
7/3/2009 ~ Irv

Hi Mike Thanks to your sincere kindness, I had the great privilege of experiencing my first Paperbag show. I showed up just in time for Mike Flyntz's intro and stayed till about 11:50PM. I know that barely scratched the surface, but I must say that I was blown away at size of this event and what you have nurtured and built over the years. The enormity of organizing and putting that kind of show on, in such a professional way blew me away. I tip my hat to you and thank you for a great evening!

Irv
7/2/2009 ~ Bob Koloski

End of the Spring and here she comes back, Hi Hi Hi Hi there. Them Summer days, those Summer days. Dear Members of the Paper Bag: Once again like the Great Ra, Mike Guido's Paper Bag decended last night on Mulcahy's, entering us into the beginning of Summer. As alway, we were ready for the magic and we were not let down. Summer would not be the same without their Peace, Love and Rock and Roll. A heartfelt thanks to all the musicians on the stage and all the rest of their unseen family and friends who made it all possible. Wishing you all well, untill we meet again... Paper Bag, What a drag......

p.s. Boooo the band.... lol hahaha lol.
7/1/2009 ~ Jim Myers

Well indeed I thought we did a great job....... all around............everybody! So this being said I will Quote Hunter Thompson........ WE KILLED LIKE CHAMPIONS !

forever your friend............. Jim
7/1/2009 ~ Tony Barca

I must say it was a special bag. all of you gave stellar performances and I think we all had fun too.. Time for rest now.. be well rest up and have a great after bag.. I will reflect a bit after I sleep for a day or so!! :) Probably taking a Yoga class at some time tomorrow..
Peace... Love and ROCK & ROLL
7/1/2009 ~ Dave the Rave

4:31 am, Tuesday night ( Wed. Morning) just home from Bag #32. Like a fine wine, the Bag improves with age. Nice to have Joanie & Annie back from their respective corners of the Earth. Crowd was very receptive and had tons o' fun. As always, I am grateful to be a part of this classic. Thanks to Mr. Guido for letting me sing to my wife. Beats the shit out of a card, huh? Thanks, as always, to the Bag members who make me feel like a pro, even if it's only for a day. I can't believe it's already over. I had a blast....Love you all.
xoxoxo
Dave the Rave
7/1/2009 ~ Lee Finkelstein (Paper Bag alias Eel Nietsleknif) in a message to the Bag Drum Brotherhood

Hey Guys, Great to see and play with all of you last night. I just felt the need to acknowledge the camaraderie that is truly a blessing and all too many times, goes by without mention. Until next time.
Peace to you and yours.
Lee
7/1/2009 ~ Ben Greenspan - another member of the Bag Drum Brotherhood

What? Speak Louder I just did the bag. Man I am so deaf from last night. Its 1:30 and I just got up. Lee my sentiments exactly.
It was great to see all of you and play alongside you guys.
Ben
7/1/2009 ~ Vin Cimino- another member of the Bag Drum Brotherhood chimes in

I agree whole heartedly. In no other situation can such great vibes come from such absolute debauchery. I had a blast right up until the meathead bouncers through my sweet shy girlfriend out of the bar because she was in the band area wearing a BAG SHIRT with no name on the back. Anyway some humiliating tears later (and the other half of the Jameson bottle we had at home) cured everything. Wish I could have stayed til the end but you know what they say. SHIT SLIDES DOWN!
Peace all.
7/8/2009 ~ Finally, the Big Dog himself, Scotty K addresses his minions in the drum section

Too bad about your girlfriend Vinnie, and the ending ---- glad you found "the cure" --- well all I can say is that I'm in! -- there's nothin' better than seeing you guys and playing together - two by two - or two by seventeen!
anyway - what a pleasure and what a gas! (how old am I? - "what a gas"? yeah - I'm my father!)

love you all - great job by everyone and a lot of fun... and that's the key word!
Scotty K
7/1/2009 ~ Ken McCullough

Hi Mike:
I wanted to thank you in person for the tickets but I couldn't get close to you. I was able to say hello to your wife before the bag started. I was not able to get my brother to come. Great crowd, great performances, great night, You're right on. Keep in touch.
Thanks again
image by Lester himself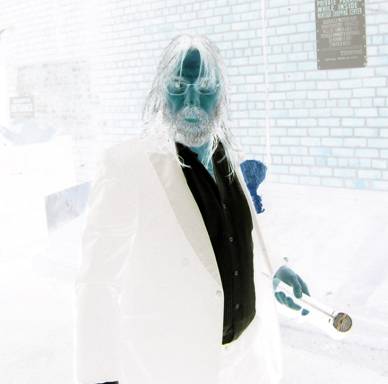 7/1/2009 ~ Lester

Mike...truly my pleasure to be a small part..
Its remarkable how this gets done year after year. What a joy to be a small part of this great great event. And how cool about Sara, and all that jazz. Your "fly me to the moon" is a highlight.
5/19/2009 ~ Katy Casey

I think I accidentally attended the very first Paper Bag back in 1979 and two or three after that. I was pleasantly surprised to hear you guys are still at it, fighting the good fight and singing the good song. I'd love to tell a funny story from '79 but it is all a little fuzzy now ... and actually always has been. I will be there this year and am looking forward to it.
1/14/2009 ~ Jim

I'M LOOKING FOWARD TO MY TENTH STRAIGHT BAG THIS YEAR AND I APPLAUD ANOTHER GREAT THEME CHOICE. I LOVE ALL THE SONGS BUT UNTIL I HEARD JUNGLELAND LAST YEAR I DIDN'T KNOW I WAS MULTI-ORGASMIC. THE VIOLIN, PIANO AND SAX SOLOS WERE SPECTACULAR. I'VE SEEN SPRINGSTEEN MANY TIMES AND I DOUBT HE COULD DO IT THAT WELL. I'D GLADLY GIVE MY FIRST BORN TO HERE IT AGAIN. ALSO THE JETHRO TULL SONGS ALWAYS SLAY ME. THANKS
1/10/2009 ~ Anna Coronna (west coast alias of new grandma Annie Santoriello)
Hi Mike,

I am home with a cold and doing a little browsing... and decided to check in on the bag web site. I am so thrilled that you are finally posting video on You Tube! I thoroughly enjoyed the Bill Mason video and would love to see some of the performance video of that 1994 show. Could you post some of the sergeant pepper songs? I also wanted to tell you that the date is incorrect on the opening credits.. the run through was on Monday June27th. [editors note: Annie (or Anna or just Grandma) is correct. I have put the wrong date on the dvd]

It's so interesting to see this video cause Paper Bag #17 was coincidently my first one.. i was a rookie and my shirt said "sista wilson" cause I was working my connection to my brother Allen who was the vocal section leader, and leader of the very popular "Little Wilson Band". Allen can be seen in the video a number of times.. he's the fellow in the green t-shirt who is shaking his finger at the camera when they are about to attend a union meeting... ( finger wagging is a family trait apparently- as well as union meetings) and i think you'll recognize (a smaller version of) someone else you know in that same "executive board meeting".

1994 was the year that the vocal section rehearsed in Allen's apt in Huntington... a place that looked like an Appalachian homestead... this was pre computer and the lyric sheets were hand written photocopies that allen had acquired by listening to the album and he mistook the phrase "ch ch cheese" for " Billy Shears" which we never let him forget.. as I recall the vocal section nailed the Sergeant Pepper album for that show because of those rehearsals... what a great night! I sang the shit out of "Roxanne" by the police... my very first paper bag solo performance... it was a stellar night for me!

Love to you as Always! Anna aka Annie aka gwmts (the g stands for grandma sonny!!)
1/10/2009 ~ Anna Coronna p.s.
so.. I just saw a bag 93 picture on the site with me in it.. and upon further investigation i now see that my first bag was actually in 1993 and that was the one I sang roxanne at... so my previous post is not quite accurate...

i guess the bags at Paradise were jumbled into one memory... it's not surprising that 94 stayed with me .. as i said it was a significant week...
1/2/2009 ~ Pamela
Hi Mike,
First of all, I want to thank you for scheduling the Paper Bag on Thurs. nite in June '08. As a NYC HS teacher, those Tues. nites (with the last day of school on Wed) were a killer. To that end in mind, the last day for teachers in NYC is Friday, June 26, 2009. When is the Bag scheduled for this June? Please do your best on our behalf. Thanks a million and keep up the fantastic job you've been doing ALL these years. You bring a night of fun, great music and reunion to a lot of people.
Wishing you and your family a very happy and healthy New Year 2009.
Peace Love & Light,
Pamela
editors note: Paper Bag #32 will be held on Tuesday, June 30, 2009 – giving the NYC teachers the recovery time they need.
1/2/2009 ~ JOELIE69
has made a comment on YouTube regarding the video Paper Bag #17 - 1994 As Seen by Bill Mason:

Thanx Bill, How could you be on the Executive Board of remembering things? I thought the whole idea of the bag was Guido mass hypnotizing everybody to forget their problems and start the summer off with a bang. THANX TO ALL especially Jim Small for turning me on to my favorite event of the year! Bagger since 84-85 (I can't remember :)