9/10/2007 ~ Mick McLean
Dear Michael,
I don't wish to bother you with unnecessary email - you being the incredibly busy boy that you are, but seeing that I have inadvertently locked myself out of the house at 7:45am on a Saturday morning and not wanting to incur the wrath of my "spousal unit" by forcing her to arise at this ungodly hour (for at Saturday that is), due to my stupidity, I figger'd I'd pester you instead.
Why someone would post old TV commercials on the "Bag" site is something of a mystery to me, but to quote G. Knight & the Pips - "Keep on keepin' on." (Or was it the Staple Singers?) In any event, in the Olympia beer commercial, you forgot to point out the "pop-top" can they used! I mean you did point out the furniture in the Newport ad! I think leaving out the "pop-top" is a gross omission of pertinent details. For shame!
Yer Chum
Michael "Mick" McLean
PS:
Since you probably are clueless as to who I am, I've attached a picture of me with my first band with Carucci on guitar to jog your memory. I sent this picture once before and you said you were going to include it on the "Bag" site. I can't find it there.
To further jog your memory, Pat has tracked me down on the 'net and we have renewed our friendship after 30 odd years or so (very odd years I might add.) Back in the Lagnaf years when you were playing at "The Daisy" you prompted her to pour a pitcher of beer into Charlie Wilkersons boot while he was sitting in on bass for a bit. If I recall correctly, when he relinquished the instrument, there was some problem with mayonnaise on the neck of the guitar.?
Later
Mick
Editor's note:
click here to see the picture Mick is referring to
9/10/2007 ~ the Unknown Drummer writing about the After Bag Party
Hey Mike,

Had a great time at the party. Playing drums is always fun.

Playing material you've never played before, and pulling it off - that's exhilerating.

Doing all of the above while tripping on mushrooms?

Priceless.

If you see Tom Peck, tell him thanks again, and offer my apologies for any latenight weirdness that may have occurred.
9/1/2007 ~ Cherry Black
Hi,
It's Cherry from OUTLAW RECORDS,

You guys are awesome... I have a R&R Hall of Famer who LOVES to play with Orchestras but can NOT live without Rock & Roll... When reading through your line up I was impressed. Please send me a copy of a DVD or CD or preferably both. I will play it for him, as soon as he's rested. He'll be returning home from a long World Tour. So he should have some down time.

In regard to the copy of the Presskit, including: Bio's, Press shot, DVD and or CD; please send them VIA Keith "Dozzi" He knows me VERY well and at any rate I'll give you my number xxx-xxx-xxxx In case Keith lost it. It's been a while since we played together.

Please, kindly forward this message, have him get me "The Kit" and I will most charmingly present yours to the R&R Hall of Famer. If he doesn't go for it, I think he will though. I 've heard him dreamily speak of a ROCK Orchestra rather then a Classical one. He was passionate when imaging playing with the High caliber of the Classically trained... BUT playing Rock m Roll or Metal with players that T-I-G-H-T he should be quite tempted. Hopefully.

Thank you,
Cherry Black
C.E.O. OUTLAW RECORDS
I like it! However, at the risk of being pedantic, according to Wikipedia the Flintstones didn't appear on TV until 1960, so strictly speaking this isn't a "fifties" commercial.

If it's identified as such on the CD-ROM, you should return the disc for a refund. :)

P.S. I like this line from the Flintstones Wikipedia entry:

"In 1963, Winston pulled their sponsorship from the show when Wilma became pregnant..."

These corporate drug pushers/murderers were offended - or thought their *audience* would be offended - by pregnancy! I love it...
8/13/2007 ~ Another Mike Guido
Do you guys play in a big area or do you all take turns on stage? Are there any rules for the HAT-O-BAG?

Thanks
Another Mike Guido
On 6/15/07 9:44 AM, "JoAnn C. Quinn" wrote:
Hi Mike,
Are you, by any chance, going to be performing the song Jungle Land by Bruce Springsteen? Just curious.
Looking forward to my third Paper Bag! (I know, I know, I'm only a baby – not experienced & all, yatta, yatta, yatta!)
On 6/15/07 10:58 PM, "bagsite mail " wrote:
Hi Joann
It is your lucky year. Just for you, we will do Jungleland. How about that?
Have fun at the bag
Mike
On 7/26/07 4:41 PM, "JoAnn C. Quinn" wrote:
Hi Mike,
I just wanted to say thanks again for "Jungle Land" – It was awesome. I literally was in Awe Land. Every single performer was at his or her best during that song. It gave me the chills! The violin piece was so beautiful – I thought my heart was leaving my body – Yikes!
Many Thanks.
Much Respect.
JoAnn
ps: I already have another request for next year. How about something from Lou Reed's "Transformer" (Walk on the Wild Side is on that one – but they're all good!) BTW – Has there ever been a New York Bag? (NYC the theme I mean.)
7/18/2007 ~ Tommy "Gunn" Menkes
Great Bag! 30 was a success. As always you come to impress. I wanted to give you enough time to re-cooperate before sending you a message. I hope I see you guys rocking before the next bag. I spoke with Jim Small not to long ago and told him I'll probably stop one of your shows this summer. Maybe even the booze cruise. Again thank you for all the time and effort you put into such a great production. Just a thought for next years theme. I am a huge Who fan. I remember the Who Bag in 1995. What about doing the entire "Tommy" album? Just an idea. You always know best. Hope all is well. Have a great summer.
7/11/2007 ~ Lenny LaPinta
What a bag..... Jungleland was my all -time greatest moment as a sax player. Here are a few pics from that splendid moment.. Thank you for all you do my friend.
LL
PS Uncle Leo went to the Parole Board on Bag Day and was granted parole (in the name of Rock and Roll). He will be home on August 7th.

Editor's note: see here for an explanation
7/7/2007 ~ Barry Ambrosio
Mike
Thank you for everything you did for me for the Bag, I had the best time I've had , well, probably since the last time I was up there.
you rock, Barry

7/5/2007 ~ Rick "Noodles" Horvath
Howdy all,
Had a great time at the bag and finally have the video online for everyone's enjoyment. I was hoping Guido would see it first and get back to me. Hopefully you enjoyed it Guido! Editor's note: I did see the video and have enjoyed it greatly. Now I'd like everyone else to as well. You can find the full version at:
http://rickhorvath.com/paperbag2007/
for download.
It's also on Youtube:
part 1:
http://www.youtube.com/watch?v=x_gKmBkUWUM
and part 2:
http://www.youtube.com/watch?v=VMC8q8gMx0k
The quality is not as good, but you can get the idea. I know, I need to invest in some lighting - don't remind me. So please pass this email around to the others. Hope you all enjoy.
--
Thanks,
Rick "Noodles" Horvath
7/5/2007 ~ Brian Hauff
Mike,

Again, what can I say, this was by far the most fun I have had all year. I think it was better than last years bag. To all in the band and support groups.....you guy are the best. I have heard many good things from new baggers, ie 'You guys have no rehersals?......How does the band sound so good?'. My answer to that is 'This is the best damn group of musicians on long island! I beleive they can do anything you ask for!'. It still amazes me that with such little time the band can put it all together and sound so great. I am proud of the opportunity to be part of this and look forward to participating in the future.

Mike, thanks for the support and chance to play with these guys and girls!

Brian
AKA - WALK ON
7/4/2007 ~ Tom Russo
Scotty,

First of all big CUDO"S to the Percussion section!!!!!!!! I used too think ,and brag about, the Paper Bag horn section was the best I've ever seen assembled anywhere [and I have been to a million shows][Earth Wind and Fire,Phil Collins, Kool and the Gang] the point is this, I will now start touting the percussion as the best I've ever seen . I know what your saying Scotty, Rudo has had too many drinks, maybe . How about Don Larsen pulling out those special blocks , two ?'s what are the name of those blocks and what song did he pull them out, BIG CUDO'S they were acknowledged!!!!! The trained ear heard them SCOTTY K AND RUDO!! Do you think Guido heard them???

Scotty , I enjoyed the dynamics of the dial up PaperBag meetings of those very cold months, walking your dog ,picking up those #2s while discussing PaperBag business fucking great!! I noticed the drumming assignments on oak tag this year, is that something new ?

Scotty , from the bottom of my heart thank you for letting me get my rocks off in your section, thank you for showing me how to mix professionalism with having a great time ,thank you!!

Don,

Thank you for the ride home at 4:25 AM , your a true gentleman, thank you for being so hospital in your little corner of the percussion section , thank you for reminding me it's about fun also PaperBag 2006, thank you for those little blue blocks [Ithink] you pulled out and hooked up and dissassembled just as quick, they didn't go unnoticed thank you for the treat!! Scotty knows what I'm talking about , I think.

Thank you for being a MET fan and I have great seats right on the rail sec.129 row aa and I hope you will be my guest for a game, you and hopefully one of your kids or any other real Met fan s of your choice..


As I sit here at 11.58pm on July 3rd and listen too the early fireworks going off it reminds me of how great it is too be an AMERICAN!!!!!!

And of course MAJOR FUCKING LEAGUE CUDO"S to Guido who works harder than all of us to best product out there we can ... Mike NEVER stop pushing the envelope!!! Your my musical General!!

Happy 4th my fellow Americans
Be Well

RUDO

PaperBag Affiliate
7/2/2007 ~ Tom Flyntz
Hi Mike,

As usual I had a great time at the Bag this year. The Zeppelin and
Springsteen stuff was my favorite to play on. Everybody was as good
as always. You looked like you had a great time too. Can't wait until #31 next year.
7/1/2007 ~ Lee Thompson
Hi Mike,

Just wanted to thank you again for keeping the Bag going all these years & for allowing me to be a part of it!
You da man!
7/1/2007 ~ Paul Esposito
From Paul Espo, 4 years in the bag, vocalist....My last posting was pre-bag and now I've had a few days to reflect, post-bag. In this letter, as in the last, I feel truly honored, privileged, etc to be a part of this living legend. I have my own band and enjoy singing in front of a crowd, but leading your own band pales in comparison to singing lead for a Paper Bag tune. I may never get onto the Mulcahy's stage, other than in the Bag, and I thank Guido, Barca etc. for that opportunity.

Since the bag the other night, I've been beaming with pride, telling anyone who wanted to know and watching and re-watching my dvd of the show that my wife Julie (3 years in the ladies' aux.) filmed. This is an experience and I venture to say, life-changing. I've made friends, made connections, made memories and created an annual tradition at the same time.

As soon as the bag comes and goes, my mind is already racing ahead, wheels turning on what song I will sing the following year, as well as ideas for bag themes....(I will email them to Guido some time this summer, since I am a teacher and I don't have to work or bang on the drum all day until September) What more can I say other than I wish that the Bag was like the World Series and was a best-of seven....ha ha. I leave you with one thing. If you haven't seen the mini-video on the bagsite of Guido being shaved, it's a must see! And see you all again at the Labor Day After-Bag Party
6/30/2007 ~ Johnny Cola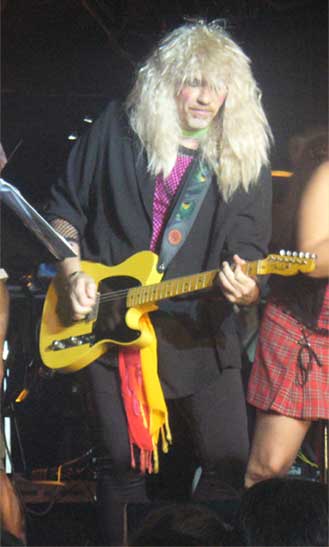 When I walked down the stairs outside, a guy started checking me out...his wife yelled "It's a GUY, Steve!"
When I walked into the Musicians Courtyard, 2/3 of them didn't give me a second look. Baggers...they've seen everything.
I hope it made the Bag even more memorable.
The Boston song was HOT. The Home-Run song was Jungleland. Great call with the Violin.
I took off my wig after my song because I didn't want to draw too much attention from the songs after.
Springsteen in Drag don't cut it.


Arright...whose got my Spandex and Fishnets? C'mon, fess up.

Love,
IPLAYLOUD
6/29/2007 ~ Scott Kistenberger
I have extreme BAG LAG ........ but I concur 100% with Tony's thoughts! --- I thought it was a great BAG and though I am the whitest man in America - I'm not gay - so I also thought it was a real special night - being the 30th and all - It was a little more like a celebration of making it through and enjoying it - and like Mike said in the opening speech in the courtyard - a real accomplishment !!!
great songs, done 95% really well !!! - it was a pisser !!!!!!!!
Long live the King !!! My hats off to Mr Guido !!!

Scotty K aka "The Whitest White Man In America"
6/29/2007 ~ Tony Barca
To All of you,

Once again your profound professionalism shined through and with almost no rehearsal we pulled it off again. Kudos to you all on a great bag. This is always a sentimental time for me post bag and you all know why. I always try to be the best I can be sort of snubbing my nose at the fates. I work hard to stay healthy and i want my performances to be better and more energetic every year. That alone is a mountain of a job.

Thank you all for making my job as leader a very happy experience. i truly learn from you all as i go. I may be grumpy sometimes but that comes with the territory. Just know that I have the highest respect for all of you as people and performers. i am proud to be associated with you all. I went through some pics that Mr. Phelps took yesterday and there were so many special moments there for all of us. i could tell.

Thanks a lot for sharing this part of your lives with me.

Peace, Power and health to you all
Your fearless Leader,
Tony
6/28/2007 ~ Tito Battista
Dear Mike,
Thank you for the best time I have had in a long time! You are the best. I ran into so many people from the past and thank you for giving me the opportunity to sing with your group. Let me know if there's anything I can do to support your cause. Again, thank you for a great evening.
6/27/2007 ~John Schreiber
Dear Mike,

What prompted me to write was your very nice tribute to Sally Scudder in the Paperbag program for Last nights concert. I met Sally in the early 90s through a bunch of musicians and I had many sessions and a did a few gigs with her about that time. She was a delight musically and spiritually and I still miss her very much.

My First bag was about 15 years ago and I have seen many since. They are a joy to watch, not only because the great music and talent, but also because of the friendship and good will so evident all over the stage for every moment of the show. I love watching the musicians interact and being a performer myself I know that camaraderie is often elusive and inconsistent. Your guys have a good time.

I have been an elementary teacher in the Freeport Public Schools for many years so I very much appreciated your bringing attention to teachers in the audience as well as the portion of the show last night that was turned over to your principal. Great to see him up there rocking. I wish I could say that my principal was capable of that, but not a chance. He was terrific. Although I am not a music teacher per se, I use guitar in my classroom everyday and I am the person who does all the music for our school shows, concerts and assemblies. We are lucky to have on our building staff, another male early childhood teacher who plays guitar and bass, a professional level Cellist who can play spontaneous melody on anything you put in front of her, keys, marimba, xylophone etc., and a custodian who is a rock drummer in an active Band on Long Island. We do rock at assemblies occasionally.

I always figured that with the setup you have on stage, you make Phil Spector's "Wall of Sound" seem like (I cannot think of a one word metaphor for a weak or small wall). But anyway, I always thought it would be so natural for you guys to do a big Phil Spector number. There are a bunch but none bigger and better than the incredible Ronnette's "Be My Baby". Some others would be, The Crystals "And Then He Kissed me", or "He's Sure the Boy I love", or "Da Doo Ron Ron".

Last night's highlights for me were (in no particular order), 'I Don't Wanna Work' (I'll never forget seeing that percussionist dressed in a barrel years ago. He is a heck of a musician). The James Brown Tribute, I love James and you guys do them well, 'Aqualong', not an easy song you did so well last night. "Hot Fun" , I love that song. "Get Off My Cloud", simple song very well done with a good singer. "Sexy Mo Fo". Fun song, Dawnette owned the stage and the audience for awhile. "Piggies", I love the Beatles. 'Addicted to Love"

Your 'Bag' friends and we are lucky to have you to keep this wonderful tradition going.

Thanks for a great night.
6/27/2007 ~ Andrew Cutrone to Paul Shields
Paul,

I had a blast. It totally outdid my expectations. I tried getting your attention at one point with no success. I was there till about 1:30. I hung out just to your left by the bar. The Prince song was by far the best, the lead singer on that was awesome. It was really really good.

My wheels are churning. How about we produce a mini/reality series/documentary about the Paper Bag. Final episode would be the live event. Pitch it to HBO or other networks. The whole thing could help raise money with good portion of the proceeds going to charities that foster music education in schools and/or scholarship programs for students. Have it endorsed by a local star such as Billy Joel, Bruce or Bon Jovi. I think it would be a huge hit. What do you think???

AC
6/27/2007 ~ Brendan O'Keefe
Mike-
Congrats on 30 years of The Paper Bag and a big THANK YOU for letting me be a part of it. It is truly an honor and a privelege and I've had an enormous amount of FUN playing with all them great musicians over the past 10 years. Hope you're enjoying bag lag.
Thanks again!
Your pal,
-Brendan
6/27/2007 ~ Karen Dever
Last night was my first Paper Bag and I had such a good time I'm hoping for 30 more!
6/27/2007 ~ Rosemary Whisler
As usual a great show! Mike Cummings tribute to Jim Pin was touching. moving even. Oh wait, that's Mike - you touch him in the right place and it moves….long story.
Thanks for all you do.
Editors note: Rosemary's email was edited. She also brings up a valid point that will be addressed at the next Executive Board meeting. Rosemary, you have been heard.
6/27/2007 ~ Sean Walsh
Dear Mr Guido
Thank you for letting me come to mulcahy's on mon & tues it was really fun and I also learned a lot over the past two days. I can't wait until I can finally stay for the whole bag. Also thank you for the shirt and if you need any help with anything pops you know were to find me.

From Sean
6/27/2007 ~ Kenny Teknus
Hey Mike
Just wanna thank you for the honor of participating in the 30th Anniversary of the Bag. Thanks again but I got one request next year. That kid Walsh has got to stay, even if we stick him under the stage. He worked his ass off and was disappointed that he had to leave. He is a good kid.

The Kid

6/27/2007 ~ Dave the Rave Franklin
To all my Bag friends and Family,
I must first offer thanks again for the opportunity to perform in the Paper Bag. This was my third year on stage, and I still pinch myself ( nothing sexual, thank you ) after each performance. I am an amateur in the presence of professionals, yet I was made to feel welcomed from day one. The Paper Bag is my "Rock & Roll Fantasy Camp", and I love all the vocalists and musicians who have made me feel like one of their own.

Once again, I thank Mike Guido ( who MIGHT read this sometime in July when he recovers from this Bag! ) for allowing me to join this band of Brothers & Sisters. I thank Tony Barca for having enough faith in me to let me sing in so many songs, and finally I thank all the wonderful singers and players for allowing me the opportunity to live out my Rock & Roll dream.

I love you all, thanks for the ride...
Love & kisses,
Dave the Rave
6/26/2007 ~ Paul Esposito
This is a pre-bag message, sent to you, the bag-leader at 12:40 am on the day of the bag in it's earliest hours....

After tonight's rehearsal, which was my fourth, I have come to several conclusions, which to all baggers will not seem as any revelations. The bag is a family, the bag is an icon and the bag is an incredible honor to be a part of. Strange as it may seem, there are those on this island that do not know what the bag is and these people are greatly deprived. How Mike and the rest of the founders continue to perpetuate this entity is truly mind-boggling. Equally amazing is how two factions--the singers and the musicians--can exist independently of each other, until tonight, yet come together like clockwork (most of the time) by tomorrow night.
As you stand on the stage and look out at the baggers, and tomorrow night, the audience, you feel that pride, you feel a part of the mythology and you are aware of the tradition that you are representing, Like 'putting on the pinstripes' must feel, there is a responsibility to give it your all, to entertain the masses and to be one little piece in the big puzzle. Singing in the bag is a different dynamic than fronting your own band. It's like being a 'guest star' and a humble one, at that. I am looking forward to my 4th bag tomorrow night, and I especially thank Denise Corazon for getting me in and Tony Barca for helping me in many musical endeavors. Let's hope I can do the harmony on 'Join Together'
6/22/2007 ~ Phrögk
Due to the height of the ceiling and lighting bars, the only way we can raise the drum risers is to chop off the heads of the drummers.
Larry Perlman
Editors note: with existing technology, including a laser lever and avoidance of the Rockabilly Barber, we were able to raise the drum riser 23/8 inches this year. The fact that many of the drummers are bald helps greatly. Hope they are more visible this year.
6/20/2007 ~ S Klein
last year, when i was there, i COULDN'T SEE THE DRUMS.
they were too low on the stage. they really need to be raised, don't you think??

smk
6/20/2007 ~ Brian Hauff
Just looking forward to be part of the bag again for a second year...it is always a blast and the bag lag is worth every minute.

As far as music theory.....here is mine. If the music sound good that is great.....if it does not....well...drink more and give it another try.

5th's you can get from the Liquor store.
3rd is after 2nd on the shift column.
Minor scale - used for postage.
Major scale - used fo weighing big rocks at the quary.

Brian AKA (WALK ON)
6/18/2007 ~ Johnny Cola
Damn...I was never able to make heads or tails of those little dots and lines on the sheet music.
Power Chords are your friend. Like a Fine Wine, they go with just about everything.

All I know is:
To make a Minor, I lift my middle finger off the string.
Major Nelson was the Master of Jeannie.
A 3rd is after the second time I get up to pee at night.
A Pentatonic is my fifth drink.

Love,
IPLAYLOUD...Musically Impaired
6/18/2007 ~ Pete Scully
Fellow Baggers, Baby Baggers, Ladies & Gentlemen,

The 30th Paper Bag. Whew!! If you really think about it, exactly how long is 30 years? In 1977, I was 13 years old and in 8th grade. The median household income was $13, 572. The cost of a new home - $54,200. A Car? Well…The Ford Pinto Wagon was $4,075, and the Ford LTD rang in at an astounding $5,866. A gallon of regular gas? Anyone?? 72 cents . A postage stamp was 13 cents. Rocky was the #1 movie.

But I digress (and I'm starting to sound like my grandfather who told me that everything in his day cost a nickel, which in turn is giving me the willies - not to be confused with the heebie geebies).

I started with the Bag in 1993. Before then, many of you knew me as this guy who would come up to you and ask he could sing a song with your band. So many of you were extremely gracious with the many opportunities you gave me to try stuff out and learn by watching & doing. You can listen as many records as you want, but there is no better teacher than a live show. In fact, I can honestly say that the 4 vocalists who have greatly influenced my singing style are Allen Santoriello (Little Wilson Band), Tim Lawless ( where is he anyway? ), Michael Walker (Chaser), and Peter Mazzeo (Blue Eyed Soul).

Anyway, I heard about this thing called the Paper Bag. Huh? What? How many people are involved in this??? In 1990, I came down to see the Black & White Bag at Sundance. It was the most unique thing that I had ever seen. With a raised eyebrow I thought, "How do I get involved in this?" For 2 years, I wandered around & couldn't figure it out until someone said that I had to ask Mike Guido. One night at Chelsea's (or whatever passed for Chelsea's. Can anybody remember how many names that place had?) in Huntington, I sheepishly went up to Mike and asked if I could sign up… Yes Mr. Guido - I've seen at least one Bag .

I CAN?!?!?! WOO HOO!!!!

The first rehearsals start, and I of course, being a stupid ROOKIE (Yes, I was stupid - no offense to any rookies mind you), was nervous, cocky, scared to death of being up in front of that many people & hoping I didn't screw up. After a while, you find that you settle down, because if you don't - your peers are never going to stop bitch slapping you.

MY FIRST BAG!!! Where the hell is this place? "Paradise in Island Park?…Uh… Where? I'm a North Shore boy."

The night before the show, Guido says, "Hey ROOKIE!!! SCULLY!!! Where the hell are ya??"

"Um…right here…ah..Mike…Mr. Guido..um.. sir…"

"SCULLY COME OVER HERE! I need you to pick up a specific light bulb for my music stand - and don't forget to bring it ROOKIE ."

"Um…Yes Sir…"

The next day, I arrived with the bulb wrapped in a towel in the back seat of my car - like I was carrying the Grail. Mission Accomplished. Hanging out before the show was fun to watch. People were cutting their Bag shirts to the way they like them, vocalists were going over harmonies and making last minute changes, and don't forget - LOTS OF BEER.

Then the long awaited DAH… Da DA Da DA DA DAH…

It was so much fun that I was bursting (well…more of a well contained YEE HAH but you get the point)

Ok - my first bag comes and goes. I find that I am hung over (I couldn't get the smell of cigarettes & stale beer off of my skin) and I am deaf for about 3 days. BUT…..I….AM….HOOKED!!!!!

From there, I spent the next 11 years in the vocal section. My wife Lisa & I moved in 2002 to Massachusetts and drove down to Long Island for the next few Bags - which in one instance I totaled my car & broke my hand the night before. What fun! I had to sue my own insurance company because the guy who hit me didn't have any.

I gave voice lessons in a local music store for a little over a year and then landed a job in Information Technology. For the past 2 years, I couldn't come to the Bag because of work (WAH!). There is a bit of a musical wasteland between my house and Boston where time stopped in the early 80's and most bands still play Hey Bartender. No real music scene unless I want to drive an hour and a half to Beantown every weekend.

Ok. Enough of the ME story…

The Paper Bag is now at year 30. How does one describe the Paper Bag? You could try to explain all of the detail involved to someone who has never been to a Bag - about how much planning, time, & effort goes into it - from the choice of the songs, to section rehearsals, lighting & sound - right down to the smallest of details. When all was said & done, they still wouldn't quite grasp the enormity of it all. You always end up saying to that person, "YOU JUST HAVE TO SEE IT!!" I have been involved in the Paper Bag for a little less than half of its existence, and I still can't believe it's been this long . I know why we keep doing it though . The show has so much energy. There is so much respect in the band. We do it 'cause we LOVE IT!! And when we can't be there…well…life goes on…but you really feel like you missed something awesome. When you come back, it's like you never left.

Holy Shit Gang - you all should be very proud of yourselves being able to put this event of this size on every year, and still greet the next with the same enthusiasm. I mean - Yeah, it's a chance to get your YA YA's out on stage, but this is extraordinary. It is a pleasure knowing all of you. Some I'll be meeting this year for the first time (ROOKIE!!!). I look forward to participating in as many as we can handle.

See you soon.

Pete
The Return of Love Monkey
6/17/2007 ~ Joe Silver
The continuation of Joe's indagation into the "major/minor" third dichotomy
I'm I thought this article from today's New York Times might be interesting to those in the Paper Bag demographic:
"The Boys in the Band Are in AARP."
By the way, on second listen, I might have been wrong about "Cross Eyed Mary." I think we might be in "Da Butt" territory here (so to speak) - that is, chords with no thirds. As many of you know, the major third is part of the natural overtone series, so that might have been what fooled me into thinking I was hearing major chords on the chorus. Any thoughts?..
6/15/2007 ~ Joe Silver
I'm enjoying reading the stories that people have submitted. Hope there'll be more to come!

Regarding the major/minor issue I referred to in an earlier message: I noticed another example from this year's repertoire only today. It's in the chorus of "Cross-Eyed Mary," the part where the chords go A to G four times, then B to A three times, then some other stuff.

I was actually surprised to hear that it's A *major* to G major, and Bb *major* to Ab major. Yes, the melody and the guitar riff both suggest minor tonality, but if you listen closely to the piano part, you can hear major thirds in the chords! Strange but true...

I thought this might come up in rehearsal, so I figured I'd mention it early, before all the shouting and confusion start. I hope the participating musicians among you find these observations helpful, rather than tiresome or silly!..
6/13/2007 ~ Rich Rahner
Mike, it is with heavy heart and muchdisappointment that I must pass on to you that due to work, I will not be able to attend this years bag. It seems the folks over at the NBA have no respect for long standing tradition(other than their own) and keep scheduling the NBA Draft at the same time as the bag. I'll have to have a sit down and let them know this is unacceptable. So, while there will be much merryment and jubilation occurring just several LIRR stops from where I'll be. Instead of listening to the soothing, calming, oh so familiar cadence of the bag theme in all it's high fidelity and glory. I'll be setting up for the NBA Draft, in the theatre at MSG. Oh, by the way. My wife gave birth to 2 lovely healthy twin baby boys just 2 weeks ago on May 30th. Last I checked, this brings the rug rat count up from 1 to 3. So it's not all bad. Just thought I'd pass it along. Keep my seat warm, I'm going to try like hell to make it next year. Thanks.
6/13/2007 ~ Martini
My favorite bag story is betting Bobby Guido that I would stay till the end one year .. we agreed ifI did I would get his shirt... Well I stayed for the ENTIRE NIGHT FIRST NOTE TO LAST NOTE had a blast luckly I took the next day off... Bobby thought he was giving me his dirty shirt which I would have taken but I lucked out Joan did the laundry andI got a nice clean Paper Bag shirt.... don't ask me which year becuase they are blend in together....
See you in the 26th Looking forward to it as usual

Ann Clarke aka Mary Martini aka Martini
6/11/2007 ~ Dave "The Rave" Franklin
My story is a simple one. For years my good friend Bruce ( the Toastmaster ) has been trying to get me to the show. For years my work schedule got in the way. Finally, about 4 years ago I was finally able to attend. The next year, I was sponsored and actually got to sing on stage. I'm not a professional singer, but I was made to feel like one by the rest of the vocalists. This will be my 3rd year as a performer, and now I make sure to take vacation time so as not to miss this wonderful show. I am honored to be a part of the Bag, and I wouldn't miss it for the world.
6/11/2007 ~ Dom
Hi; Hey Mike, I have mentioned this to you before, my 1st bag was 1981 at the lions cage. i have been to almost all of the since then, i think i missed 1993 and 94.. anyway, no great story just lots of good times and great tunes. the one odd memory i have was the 1988 bag, salty dog. staring straight up at you guys all around the top of that bar, along with many beers forced me to barf into my bag hat, pretty gross huh?. i always try and bring a rookie along. My girlfriend has never been to one so im looking forward to starting her run of bag attendance..
6/11/2007 ~ Llisal8on
Just a quick note/-story--- how the paperbag has been a part of my kids lives-- drill sgt jason avery , soon to be engineering student Damien Avery, and the youngest, Anthony---but that Jason and Damien started helping with our food drive when they were about 12 / 13 years old---and decorating down at Paradise (sp?) when I first started-- it seems like it has always been our favorite 'holiday' !!!!!!! Except getting through the flood last year to get home (it took us 16 hours for a 3 1/2 hour ride and roads were washing out as we drove them)---but the food we brought the flood victims was so apreciated, many people lost every thing, upstate was hit hard- our own 'katrina' and the canned food helped many people. Thank you for the opportunity to serve our community in this special way.
6/10/2007 ~ Joe Silver
Hi; me again! I've been listening to this year's Paper Bag CDs (in MP3 form) as I commute to and from work on the subway, trying to assimilate the tunes as much as possible so that I can relax and have fun on the night of the show. Strangely, I only just noticed that the package that Mike G. gave us contains a song list, with keys. Cool! I was going to make my own, but this saves me a bit of work. Thanks Mike! You don't miss a detail. I guess doing this for thirty years has taught you a thing or two about preparation!

I'd just like to make one, teensy-weensy little comment about the song list: A few of the songs are noted as being in minor keys, although in fact they are major. These are:

Addicted to Love
Da Butt*
Sexy MF
I Want to Take You Higher
Ball of Confusion

*(Da Butt is actually neither major nor minor; I don't hear any thirds, either major or minor, in the tonic chords.)

The confusion is understandable. The "blue" minor thirds and sharp nines in these songs could easily lead one to believe that they're minor. But they're not. Trust me. :)

I have reason to suspect that some of the old timers in this enterprise regard me as something of a music nerd, who is obsessed with policing minor, relatively insignificant musical details. If this is true, I suppose this post will do little to change this impression! However, I'm willing to take my lumps for the sake of getting this issue on the table in advance, before the intense, sometimes chaotic period that immediately precedes the Paper Bag.

Thanks, all! Let's have fun...

Editors note: As you can see, Joe Silver is up to it again. The man has ears. I need to find in the Paper Bag archives a letter written to me many yearsw ago by the above noted Joe Silver concerning the unaesthetic use of the phrase "Motown Hour" to represent an hour of soul music that could have been recorded in Memphis or Philadelphia as easlily as Detroit Michigan. He lamented the many club date leaders who have been guilty of this gross misrepresentation. He further implored me to discontinue any association with this travisty of musical ontologia. I swore off using the phrase "Motown Hour" immediately and have not suffered a relapse. Further, I will investigate this current disregard for the true "third" in the above listed pieces of music. (except for Da Butt which Joe has pointed out, does not seem to have a third in the tonic chords. During this year's run-through, we will consult Mr. Silver as needed.
5/15/2007 ~ Joe Silver
Hi all! I'm excited about the upcoming 30th Paper Bag. This will be my first one since 1994. I participated for seven years as a member of the bass section. In recent years I've been retired from active duty as a musician, but I've acquired a small collection of (cheap) acoustic guitars, and enjoy fooling around with them at home in my idle moments.

I haven't been doing any gigs lately, but it occurred to me that it would be fun to play acoustic guitar for one evening with a kick-ass live band - sort of a one-night Rock 'n' Roll Fantasy Camp, for one late-middle-aged camper (me). I asked Mike G. if I could participate in the Bag this year on acoustic guitar, and he graciously agreed without hesitation. There are about seven songs in the set list for which there are actually acoustic guitar parts on the original recordings; for the rest, I'll have to figure out something to do that won't be too obtrusive. Like drinking beer.

For me, as I'm certain for many of you, there's just something magical about anniversaries that end in 0. I wanted to be a part of Paper Bag #30 for the simple reason that it *is* the 30th. Maybe if our number system was, say, base 7 instead of base 10, I would have been particularly jazzed about Paper Bag #28...

Of course I'm also looking forward to catching up with lots of old friends and acquaintances whom I haven't seen in a while - some of whom I might not have seen since my last Bag! I'd like to see this page become an active forum for Bag participants and spectators, so we could stay in more frequent contact. However, for the most part that doesn't seem to have happened. The posts are mostly widely spaced, with little flurries of activity around the date of each Bag. Maybe folks feel that the Paper Bag is to be *experienced* rather than written about - or something like that. Still, I'd love to read other people's thoughts about the upcoming PB, the song list, etc.

P.S. By the way, has Fiona Apple's song "Paper Bag" ever been played in the Paper Bag? If not, why not?... :)
5/13/2007 ~ Guy Somers
Hey - I came across your site when I Googled Silver Dollar Saloon. My friends and I used to see a band called Otter Creek. The drummer I belive might have been the owner? Scott Berry?

Anyway do you have any info on these guys?

Thanks,
Guy Somers
5/6/2007 ~ Nancy Cunningham
Hi Mike - I have been going to the bag the last seven years or so, after the first one always sharing the good news- inviting people who have not yet had the priviledge of attending... my initial invite came every year from a co-worker at St. Francis Hospital who I used to hear playing amazing acoustic guitar through the halls on the evening shifts- thinking to myself- hey that guy is pretty good- and how great it is that I can listen to it while I am doing my transcribing. Thinking back it really made me enjoy my job there when I periodically would peek my head into Mike Cumming's cat scan room and be able to kick back and listen for awhile. But having a houseful at home made me think there was no room at the time for me to go out let alone hear an entire night of all the great music I grew up loving, (priorities, priorities)... Mike would come in to photocopy Bag flyers for the office and even when he showed me the house in Lake George he was thinking of buying. Fast forward to when I decided to take a civil service test for a county job- I show up at my first Bag, accompanied by my then new co-worker Dee, (who convinced who to go that night?). Your sister's the best, makes us feel so welcome, even though Dee was the first to get her commemorative Bag shirt! So now I look forward to the annual Bag as a great summer kickoff- although it compounds trouble when it falls during the week of our Picnic, not so this year, thank goodness. I have since then realized seven degrees of Bag separation through Cummings, I work with a friend of his sister Ann's (Ellen) and my dentist's assistant is another friend of the family, (Chris). So funny that it took us not working together for me to actually attend the bag to begin with. I sometimes see my old Boss there with some familiar faces. You guys are a living testimonial to the word commitment, I also vaguely remember when Dakota Rose opened- my husband-my then-fiancee lived in a rooming house right down from there on Merrick road and we'd go to the Blue T for pizza after being out on the bay- just getting my sea legs. tell Cummings I'm hoping this is the year Kevin makes an appearance at the Bag. Keep up the great work, it's a guaranteed awesome time.