Paper Bag
#25
2002

The Program
Go to the top of Bag #25
Paper Bag
#25
2002

The Program
Go to the top of Bag #25
Paper Bag
#25
2002

The Program
Go to the top of Bag #25
Paper Bag
#25
2002

The Program
Go to the top of Bag #25
Paper Bag
#25
2002

The Program
Go to the top of Bag #25
Paper Bag
#25
2002

The Program
Go to the top of Bag #25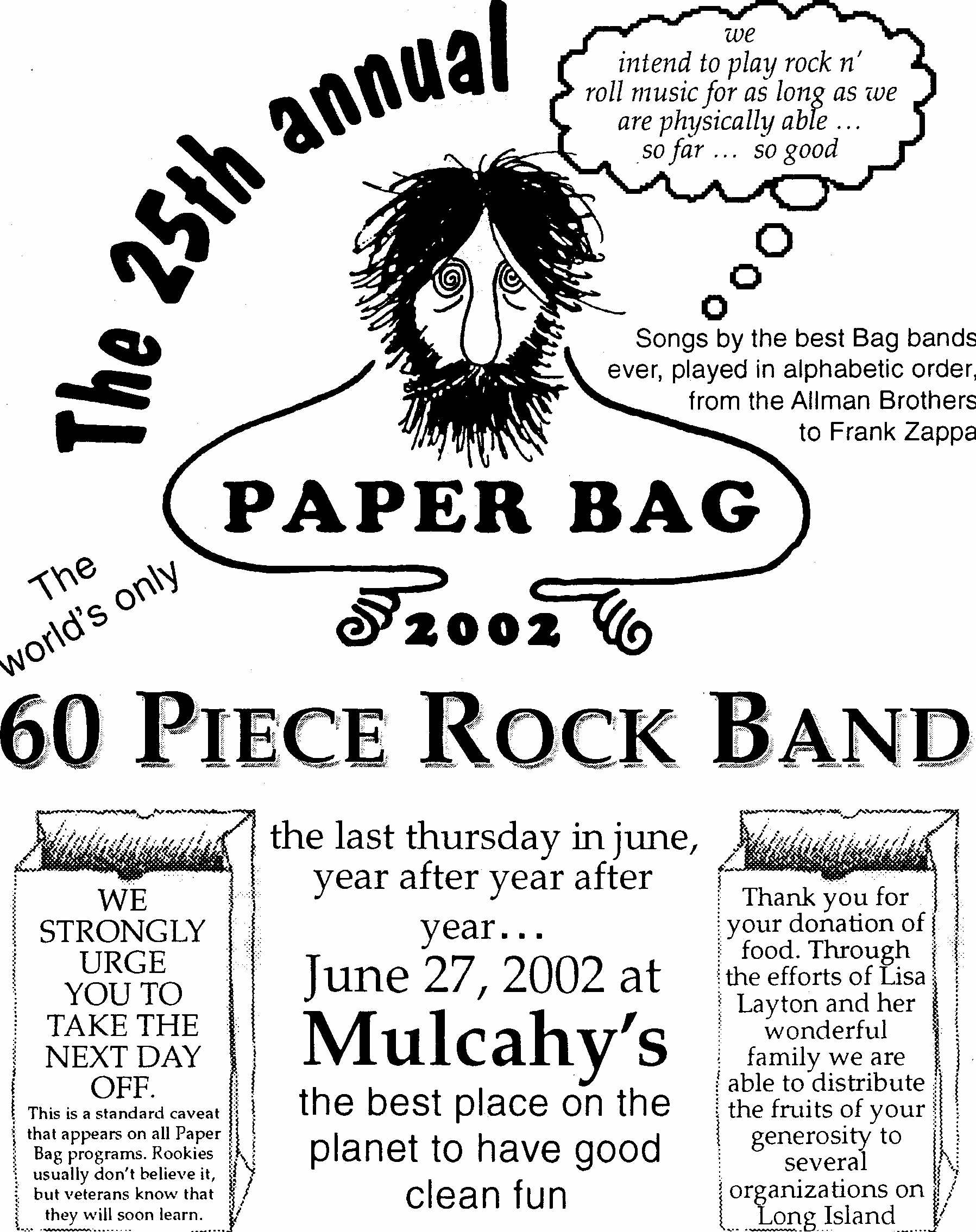 The Paper Bag Songlist Many of you are curious as to how we come up with the songlist. Usually we have some sort of a theme, but the 25th is a major bagiversary, so, during our January meeting the executive board listed all the bands usually covered during a bag. We then tried to pick the best bag song by each band. There was much discussion, laughter and needle dropping involved. (For those of you born after 1975, music used to be sold by using wax impressions cut into grooves on black vinyl discs. We called them records and played them using a phonograph and a needle). We play songs until we hit one where everyone starts dancing in their seat. That is when we know we have a winner. AC/DC is the only first time band on this year's list. This happened because Larry Ketchel did an outrageous imitation of Angus Young, or Malcolm Young or whoever sings in that ridiculous screech. It was, in a word, hysterical. We then went down the list and assigned the songs to first set or second. They were sorted by band name, and when we read the list down it was perfect. From A to Z. Allmans to the Who, AC/DC to Zappa. Yeah!
The Wheel When we run out of songs, we go to the wheel. (you know, spin the wheel, win a valuable prize - that kind of wheel) We spin the wheel, and whatever comes up, we play. We try to populate the wheel with songs that should make the list but were left off the list for some reason. This year's wheel should include among others: Famous Guitar Solos, Free Bird, Suite: Judy Blue Eyes, Stairway to Heaven, Reelin in the Years, Whippin' Post, Waylon Jennings, Get Up Stand Up, Jeff Beck, Hey Joe, and finally, the band's favorite: Mike Cummings, naked to the waist, sings Aerosmith. We will play tonight until 4:01 am. Long live the wheel. Get home safely.
There are 256 people involved in the Paper Bag this year. They have a combined 2,313.5 years experience and average 9 years experience. The 76 musicians have a total of 907.5 years in the bag, for an average of 12 years experience. There are 21 members of the executive board who enjoy a total of 422.5 years in the bag and average over 20 years experience. In case you're wondering, the 1/2 year is credited to Larry Ketchell who was able to sneak onstage for half of Bag #10
This is the spot where I get to thank… Dick at Supreme Trophy in Huntington Station; Eko Video; S-K Sound; Lightcraft; Mark Coffey and the crew at Goldman Bros.; Minuteman Printing in East Northport; The Maker of the Melon Peggy Irwin; Jill Silberberg- the sign girl; Lisa Layton for her wonderful work collecting and distributing food; the faculty and staff at Garden City MS; my brothers and sisters working at the front door missing the show; my three girls, Emma, Sara & Sue for making me the happy boy you see here tonight. As you can see, I live a charmed existence.
Mulcahy's… is some great place to enjoy the Bag. From John Murray, right across to the bar backs, every one of the seemingly endless number of employees of this club is unfailingly helpful. These people understand the the Paper Bag at its purest essence. Mul's now holds the record, with 6 bags, in no small part due to the support provided by these fine people. Please thank the Mulcahy's staff when you see them. Patronize this fine establishment all year. Get home safely
Peas & carrots, peas & carrots, peas & carrots … Brian Mulhurn was one of 4 guitarists to participate in Paper Bag #1. During the late 70's, Brian played in several bands in and around the Huntington area often teaming up with his brother Kevin as (what else?) the Mulhurn Brothers. I mixed sound for them several times at Chelsea's. Sally Scudder played keyboards and sang in many bands with numerous bag members. Sally was great to have in the band. Perfect pitch, big smile, never conplained, always had fun. Every time the Jim Small Band plays, I look over to the other side of the stage and I can see her, boppin' and tappin' her bare feet. Adam Calaci played bass and sang in some of the most successful bands to ever play on Long Island. On stage, Adam was a solid presence. Hius bass playing was strong and yes, it was loud. Backstage, he was a very, very funny man.
We are musicians. We live a different life, in bars and diners and clubs and catering halls and come home as the sun comes up and put off joining the "real world " as long as possible. It is a great life, rich and rewarding and so so so much fun. We look after each other and are loyal to each other. Sometime during the night tonight, remember someone missing from your life, smile and have some fun for them. We all can live on in the memory of our friends, family and colleagues. Take care of each other, be loyal to each other, and most of all, have fun.
The Savannah Joe Kommnick "Are these donuts fresh?" Moment Many of you in the Paper Bag community knew Joe Kommnick simply as "Savannah." I had the privilege working with this gentle man in the clubs on the South Shore for over 10 years. Savannah Joe was a bright ray of happiness that cut through the smoky air and shined into your heart. He was always ready with a joke, your favorite libation, or an absurd movie quote . There was never anything harsh about Savannah Joe…none of the rough edges many of us who live the night life develop. I miss his company. In 1996 we inaugurated the tradition of performing a song each year that connects us with Joe, so that we may have a vehicle to help us remember this fine man. This year, Lost in the Ozoneis dedicated to Savannah Joe. In keeping with Joe's sense of humor, and to ease the melancholy of the moment, before we begin the song, We ask all of you to place an index finger, held horizontally, just below your nose and all together ask in a falsetto voice …"Are these donuts fresh?"
THE BROWN PAPER BAG is the only thing civilized man has produced that does not seem out of place in nature. Crumpled into a wad of wrinkles, like the fossilized brain of a dryad; looking weathered; seemingly slow and rough enough to be a product of natural evolution; its brownness the low key brown of potato skin and peanut shell, dirty but pure; its kinship to tree unobstructed by the cruel crush of industry; absorbing the elements like any other organic entity a No. 8 Kraft brown paper bag lay discarded in the hills of Huntington and it appears to live where it lay.
by Tom Robbins
Even Cowgirls Get the Blues
Thanks and a tip of the old Paper Bag hat to Naomi Margolin for discovering the origin of this quote
2002 SECTION LEADERS
Many people wonder how this crazy, complicated show, with all its myriad details, ever comes together at all. Most of the credit goes to the Section Leaders who work many hours so that we can all enjoy the Bag. Thank them when you see them go by.
Tony Rome ~ Scott Savitt
Cheese Calzones ~ Marianne Barton
Vocalists ~ Tony Barca
Guitarland ~ Joe Anziano, Mike Cummings
Keyboard Ghetto ~ Gary Quenqua, Larry Ketchell
Horns ~ Val Angrosini
Harps ~ Joe Santino, Paul Shields
Basses ~ Jim Myers
Percussion ~ Scott Kistenberger
Sound~ Larry Phrögk Perlman
Lights ~ Greg Hebel
Construction ~ George Ranzette
Door Crew ~ Phil Guido
Ladies Auxiliary ~ Sue Guido
Mr. Guido's Valet~ Jim Mola
Mr. Guido's Spiritual Advisor ~ Tom Russo
Vice President in charge of Fun ~ Ken Tobin
The Group W Bench ~ Ed Lowe