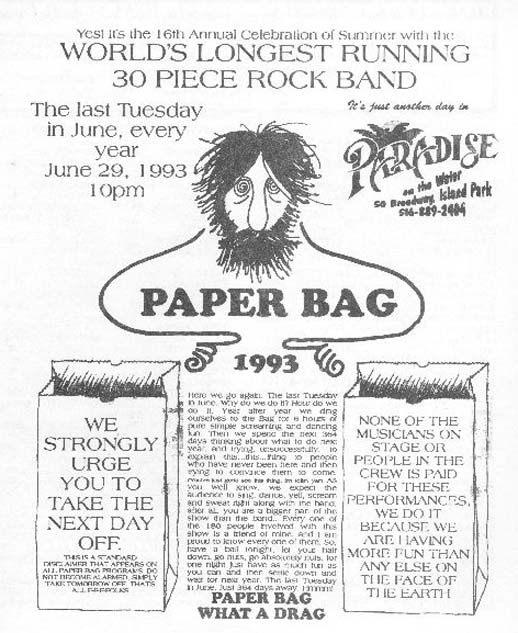 Here we go again. The last Tuesday in June. Why do we do it? How do we do it. Year after year we drag ourselves to the Bag for 6 hours of pure simple screaming and dancing fun. Then we spend the next 364 days thinking about what to do next year, and trying, unsuccessfully, to explain this…this…thing to people who have never been here and then trying to convince them to come. ("You've just gotta see this thing, I'm tellin' ya!") As you well know, we expect the audience to sing, dance, yell, scream and sweat right along with the band, after all, you are a bigger part of the show than the band.. Every one of the 180 people involved with this show is a friend of mine, and I am proud to know every one of them. So, have a ball tonight, let your hair down, go nuts, go absolutely nuts, for one night just have as much fun as you can and then settle down and wait for next year. The last Tuesday in June. Just 364 days away. Hmmm!
PAPER BAG
WHAT A DRAG
Congratulations to Adam Schwab and Christine Privitera, who met at the Paper Bag in 1990 and are now engaged to be married. Is this a great show or what? Roast Beef Joe gets special recognition for going to the cash machine in order to pay for his Bag tickets on time. Special thanks go to Dave Gruebel's Mom at the Paper Bag factory, Wolf's Sporting Goods, Supreme Trophy, Lightcraft, S-K Sound, Rainbow Video, and to my lovely wife Susan & Emma Jeanne (the Little Bean) who put up with my late nights and a million other disruptions of their lives so that the show can go on. Finally, thanks to you, the audience, you guys make this the special event that it is. Now, everybody "Bop 'till you drop".
Guido Graduates!
ACADEMIC WORLD STUNNED

Mr. Michael Guido is proud to announce that after a 20 year break he has finished his undergraduate studies which he began in 1969. Mr. Guido graduated from C.W. Post College with a B.A. degree in Music Education. He was ranked 1st in a class of 680, with a G.P.A. of 4.0. Mr. Guido is in the process of sending resumes to every school district in the land. Help this man find a job!
The graduate, in full academic regalia snarls for the camera
1993 SECTION LEADERS
Many people wonder how this crazy, complicated show, with all its myriad details, ever comes together at all. Most of the credit goes to the Section Leaders who work many hours so that we can all enjoy the Bag. Thank them when you see them go by.
Cheese Calzones - Scott Savitt
Vocalists - Allen Santoriello
Vocalists - Tony Barca
Guitarland - Pat Ambrosio
Guitarland - Doug Baldwin
Keyboard Ghetto - Larry Ketchel
Keyboard Ghetto - Bruce Rogers
Horns - Lenny LaPinta
Harps - Paul Shields
Basses - Bob D'Andrade
Percussion - Scott Kistenberger
Sound - Tom Griffin
Lights - Greg Hebel
Construction - George Ranzette
Beer for the Band - The Barcreep
Ladies Auxiliary - Sue Guido
Mr. Guido's Valet - Jim Mola
Mr. Guido's Spiritual Advisor - Tom Russo