Sometime during the summer of 1985 we went on a camping trip to the town of Callicoon, NY, on the Delaware River. I have been camping and canoeing on the Delaware since the '60's. The road to Callicoon goes right past Yasgar's farm in White Lake, the site of three days of Peace and Music in August 1969.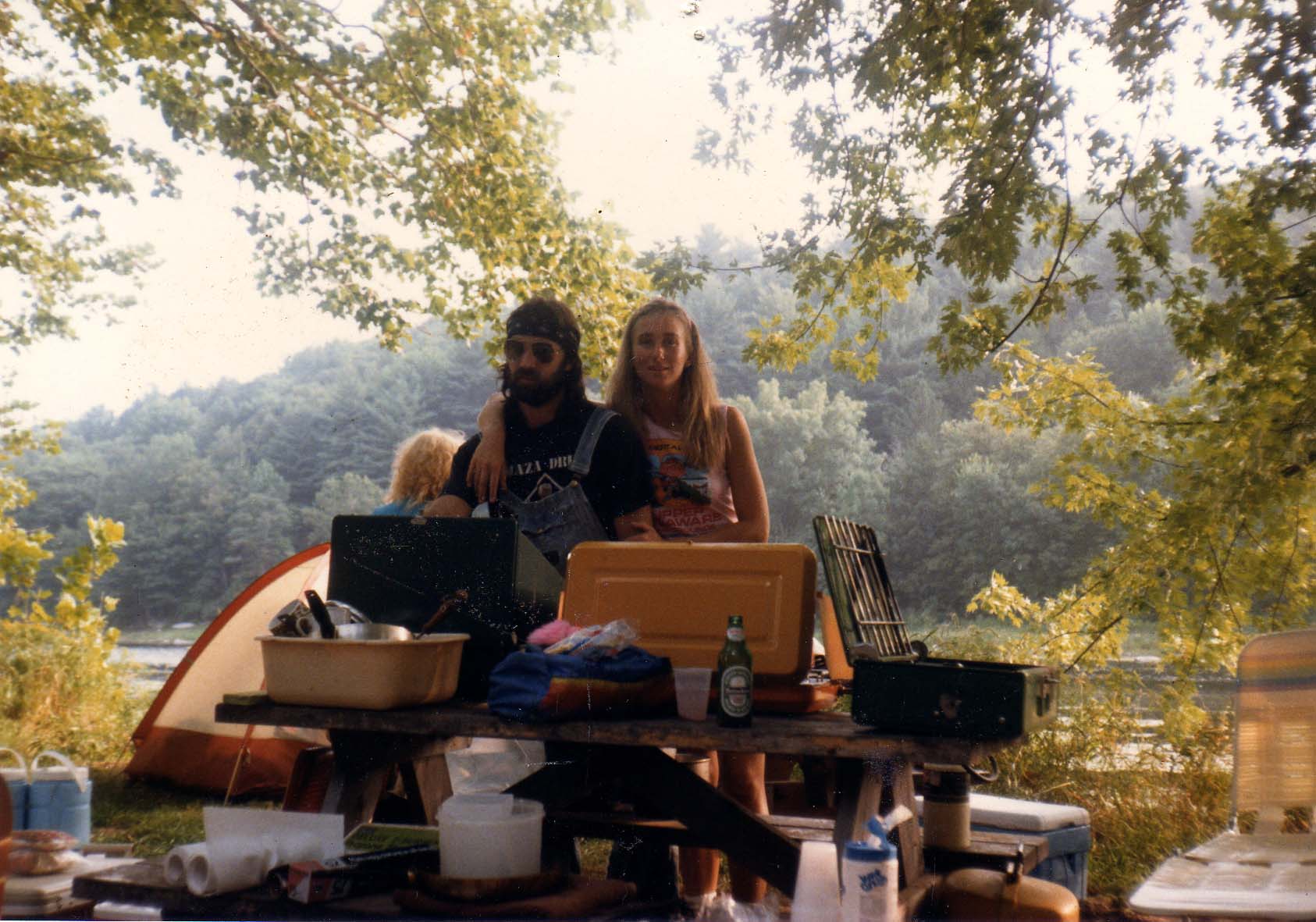 Mike & Sue at our favorite campsite on the mighty Delaware River
Anyway, we went camping, the usual befuddled, besotted, sozzled, obfuscated camping trip that one takes when one is in one's 20's (or in some cases, 30's). We set up camp on Friday afternoon, 6 or 7 tents on 3 campsites, with a huge community campfire. Our camping trip had a theme though! (sound familiar?) We were going to create the largest craft ever to be launched on the Delaware, a river that varies in depth from deeper than 100 feet to about 2 inches. Phil Reilly had driven the Jim Small Band van to the campground and we went on an errand to Lou' Tubes at Skinner's Falls, about 10 miles downriver from Callicoon. Lou lives on the river and has been renting tubes to people who use them to shoot down the rapids that occur at Skinner's Falls. During the 60's Lou lived in a tiny house and tubes rented for $1. Today Lou lives in a huge house on the site. Huge house. That's a lot of rentals. People usually rent a tube from Lou, walk the path about 1/4 mile to the rapids, stake out a spot on the rocks as you would the sand at Jones Beach, ride the rapids in your tube, walk back upstream and ride again. Then you sit on the rocks and eat, watching canoes coming down the rapids and sometimes tipping over. Great fun. Anyway, we rented 30 tubes. They filled the van and were tied to the roof and to both sides of the vehicle. Sort of a rolling Michelin Man van. We drove the 10 miles up the river road back to the campsite at Callicoon. Upon arrival back at the campsite, the Michelin Man van was greeted with much approval. We toasted once again. That night we had a nice campfire, made special by John Boyle, who made a habit of ordering the women to bring him a fresh libation when his was empty. Needless to say, the women were not amused, but the men were.
The next morning (late) we assembled our watercraft. 6 tubes long, 5 tubes wide. Tied together with nice new clothesline. We secured a 4x8 foot sheet of plywood to the center and erected a flagpole using an old Paper Bag t-shirt as a pennant. The plywood was also the base for the coolers. Very important. Satisfied with our work we dragged it to the current and boarded - 7 manly men, 4 lovely ladies, a dog and enough supplies for the trip.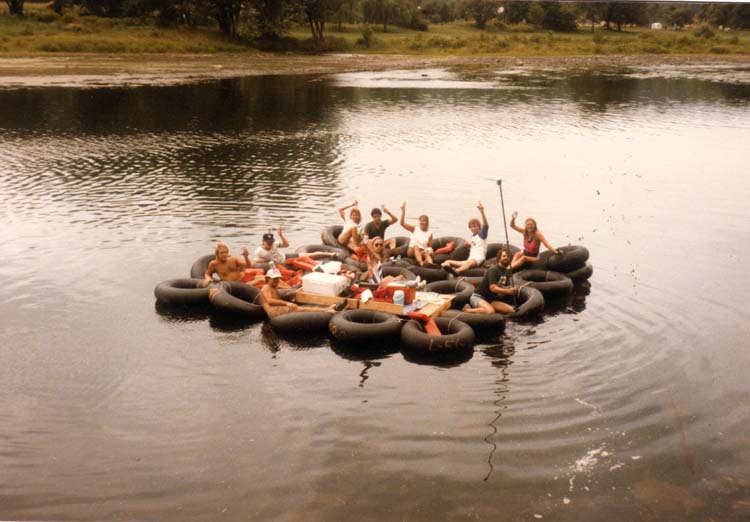 We engage in our favorite activity - toasting!
It was a beautiful day on the river … blue sky, gentle breeze. We slowly rounded the bend from the campsite and proceeded downstream. Naturally we were an item of curiousity. In 1985, the only boats on the river were canoes, rubber rafts were not in use yet. As people canoed past us we would reach out to them and invite them to tie up and imbibe with us. Some took us up on our invitation, others ran for the hills. There are very few houses on the river bank, but at least one local homeowner looked down at us and shook his head in obvious disgust.
Quah (the wonder dog) was a joy to have on the trip. She would leap off the raft, walk to shore and roll in any dead fish that happened to be rotting in the sun, then return to the raft. Naturally when she got back on the plywood, she would shake … vigorously … and thereby shake dead fish stuff all over everyone.
Notice I said that Quah "walked" to shore, not "swam." The river is quite shallow at Callicoon. But, it was a beautiful day and the coolers were well stocked. I knew, from many canoe trips down this very stretch of river, that there were few landmarks. Just miles of pristine river. In order to check our progress I made a note of a particular tree that hung out over the river right next to our position. I then sunk into my tube-seat and cracked open another cold one. About 20 minutes later I looked behind us for the tree. It was nowhere in sight. I thought, we must be making great progress. Then I looked ahead. There, unbelivably, was my tree, hanging over the river about 200 yards ahead of us. We were going backwards. The breeze was pushing us upstream faster than the current was taking us downstream!
It was still a beautiful day so we hung out on our raft and relaxed. When supplies ran low we got out and walked back upstream to the campsite, pulling our craft behind us, the same local resident looking down at us, still shaking his head. We made a great dinner and then had a huge campfire. At one point, Phil Reilly was throwing whole bundles of firewood onto the fire and then leaping over it.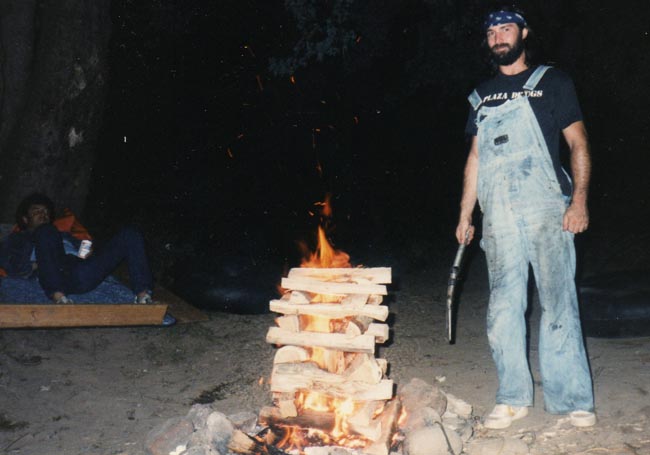 Mike tends the fire, Reilly lurks in the background
Rather than share a tent with John Boyle (understandable considering John's propensity for gastric distress) Phil slept in the band van. Quah (the wonder dog) jumped in the van window and slept, spooning, with Phil. The same Quah who had been rolling in dead fish all day.
We made merry and returned home the next day, satisfied that history had been made on the Delaware River