My new brother-in-law, Tony Graziano, is like Zelig. He has pictures of himself with a menagerie of celebrities from Mickey Mantle to Mickey Mouse. He always finds them, gets close to them, and has a camera. I am certain that photoshop was not used to alter these images. They are real.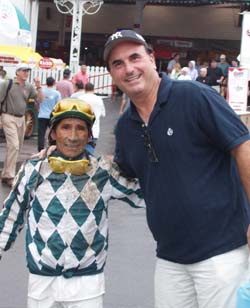 Mr. Graziano and Chop Chop at Aqueduct
To celebrate his impending wedding to our sister Lucy, the five Guido Boys (my brothers and me), along with Tony's son Nick, took the new Guido Boy (the aforementioned Mr. Graziano) out for his bachelor day. We went to the track. Everybody lost money. Jockey Jorge Chavez won the Kentuckey Derby a while back. I taught his daughters in Kindergarden. Every race I laid money on his nose to win. He showed 3 times. In the 9th race, the
46th Running of the MAN o'WAR (grade 1) $500,000 event, Chop Chop (as Mr. Chavez is affectionately called by the rastas who work at the track) rode entry 1a, so my bet to win would be covered if either horse 1 or 1a came in. I also have the 1 horse in my trifecta. They're off - - - 1a in the lead, 1 running second - - - past every pole 1a in the lead, 1 running 2nd - - - here they come - - - down the stretch 1a and 1 fighting it out for the lead at least 4 lengths in front of the field. My trifecta is coming in - - I'm gonna be rich!
In the last 1/32nd of a mile the entire field thunders past both of them like they were standing still. None of my bets pay off.
Anyway, we went out for a really good steak dinner, you know, the creamed spinach and garlic mashed potatoes, beer, huge doses of testosterone, the whole thing. Sure enough, Mr. Celebrity-finder taps me on the shoulder and says "Look over there, it's the Turtles." There they are, Flo and Eddie (Billy was a mountain, Ethel was a tree growing out of his shoulder.) The Turtles! One of the greatest bands ever. I lost all semblance of dignity, ran to them and confessed that I have kept my Turtle's Golden Hits LP for almost 40 years even though it has a bite taken out of it and it is so scratched that the music is almost indecipherable. I fawned, I almost drooled, my pacemaker clearly kept me from fainting. Flo and Eddie, vocalists for my beloved Frank Zappa and most important members of the FREAKIN'TURTLES right here in front of me.
As has happened his whole life in these situations, Tony had his camera, here is me with my two pals, the Florescent Leech and Eddie. Mike and the Turtles. You can't make this stuff up.